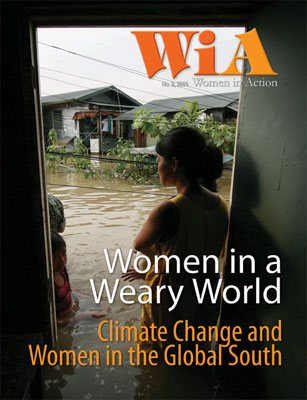 Isis International released its second issue of Women in Action for 2009, "Women in a Weary World: Climate Change and Women in the Global South. This issue raises awareness on the gendered impacts of climate change in the global South and the role of women as key stakeholders in averting the devastating potentials of climate change in the survival of their communities and their surrounding environment.
It intends to strengthen Southern feminist analyses on women and the environment, beyond the concepts of ecofeminism and feminist political ecology. Moreover, it provides a space for affected grassroots women from various parts of the world to share their stories of struggle in locales whose environment has been seriously altered by aggressive developmental projects and now poses threats of displacement, among others.
"Women in a Weary World" offers a diverse set of articles which popularizes the otherwise impenetrable discussions within the United Nations Framework Convention on Climate Change (UNFCCC) process and at the same time deepens the gender discourses on climate change. It explains for instance, carbon trading mechanisms such as clean development mechanisms (CDM), Reducing Emissions from Deforestation and Forest Degradation in Developing Countries (REDD), the Women and Gender Constituency, among many others. The magazine also strengthens the links between climate change, on the one hand and on the other hand, indigenous peoples, reproductive justice, lesbians, gays, bisexuals and transgenders, geoengineering, ecological debt and many more.
More importantly WIA facilitated the grassroots women's articulation of their stories of struggle, from their difficulty in accessing water to their multiple burdens and losses in situations of armed conflict and their sense of contribution in organizing women and other stakeholders in their respective communities.
For more information, you may contact Elvira Colobong at elvie [at] isiswomen [dot] org or see the Table of Contents.