Page 1 of 2

Editorial Notes
Isis International is very glad to present you with this issue of WiA with the theme, media, communication, new ICTs and women's rights and feminist movement building. Many articles in this issue strive to answer this crucial question: How are women re-examining and re-strategising the use of media and communication tools, including traditional media like community radio, popular theater, film and new ICTs such as mobile phone and online social networking, in order to strengthen women's human rights advocacy and to build a stronger social movement?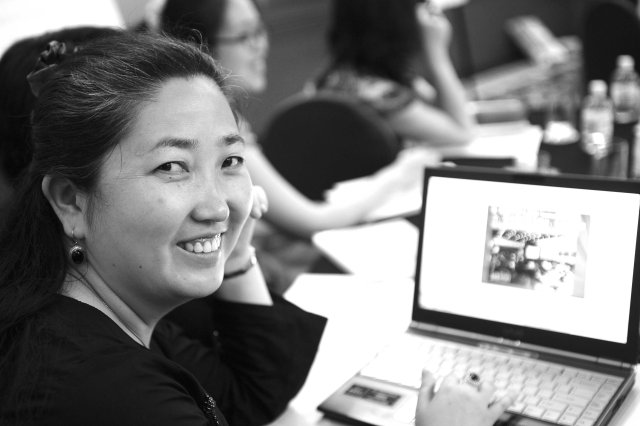 Media issues have played an important role in global feminist politics. Many research have shown that in terms of content, the mass media have not become public resources or public service providers towards gender equality, regardless of its ownership and structure – state-owned, public or private.
Moreover, the North's commercial media created unidirectional media flows to the South, which were experienced and criticised as neo-imperialist, potentially drowning out cultural and linguistic diversity and the local articulations of people in the South. Only 7 companies: NewsCorp, GE, Viacom, Time Warner, Disney, Wiendi and Bertelsmann – own the television, radio, print, film and electronic media that have global reach. The Big 7, as they are referred to, control the flow and availability of information, and are largely responsible for popularising the images that shape the world opinion.
So where is the space for women and gender justice in the media? How can we claim and reclaim this space as it has been and continues to be controlled and censored by the state, on the one hand, and monopolised by mainstream and commercial media?
In searching for the answer to these questions social movements have had to revisit their media and communication strategies. Independent and community media is at the core of these strategies, recognising both the tremendous potentials and challenges (such as online security, privacy surveillance, e-VAW, etc.) that new ICTs has brought into our lives in recent decades. Community and independent media are owned and run cooperatively, and are directly responsible to the community they serve. Whether in small island states or remote rural mountain locations, or virtually, among like-minded individuals working for social change, people have set up their own communication channels towards effective and efficient information exchange about their concerns on development which are often ignored by mainstream media. Yet these efforts are easily threatened or effectively blocked by a wide spectrum of restrictions and publishing laws in many countries.
In 2010, coming from Isis' experience in conducting training workshops on community radio such as the Women Making Airwaves for Peace series, the Activist School on Feminist Development Communications was launched. This was the organisation's way of systematising its capacity building strategies towards gender and development communications for activists, feminists, and development practitioners. The Activist School aims to equip its participants necessary skills on feminist development communications in order to respond more effectively on a variety of issues such as peace, human rights, migration, gender based violence and LGBT advocacy to advance women's rights and resist the challenges of neo-liberal globalisation, militarism, forms of intolerance, discrimination and fundamentalisms.
For example, in China, migrant workers are using theater and music to mobilise and raise public awareness on workers rights. They also produce the audio programmes in MP3 format on labor rights to disseminate among their members, since there is no way for them to broadcast these programmes.
Community women living in conflict areas in Philippines confidently expressed their issues and concerns through creative and visual art works they produced. These artworks display how they understand the concept of sustained peace and their ideas on the polices should be implemented.
These are but two inspiring stories from women on the ground and how they have used communications strategically to further their advocacies. . We thank the contributors for sharing more inspiring stories and insights in this issue, particularly focusing on "Converging Communications: Empowering Women, Transforming Communities. They are inspiring women from Indonesia, Philippines, Nepal, China, Haiti, India, Thailand, Kenya, Fiji and Mexico, who give us a glimpse of how they have work tirelessly towards the full realisation of women's human rights, in spite of the many obstacles they face. "
We especially thank Ms. Bianca Miglioretto, our guest editor to whom credit must be given for her commitment to this project from its conceptualisation to its actual publication. She is responsible for bringing together many active women in community radio movement through the AMARC WIN to contribute to this issue of WIA.
Cai Yiping
Editor-in-Chief