The Asia Pacific Women's Watch (APWW) is a regional network of women's groups which: monitors and collaborates with the United Nations, national governments and non-government organizations (NGOs) in empowering women and advancing their human rights. APWW is represented by five sub-regions – Central Asia, East Asia, the Pacific, South Asia and South East Asia and is also joined by representatives of each of the three major international women's networks: APWLD (Asia Pacific Forum on Women, Law and Development), Isis International and ARROW (Asian-Pacific Resource and Research Center for Women).
APWW organised three side events at the CSW and presented a statement to the CSW session (see below).
CSW 56 Side Event: Gender and Disaster in Asia and the Pacific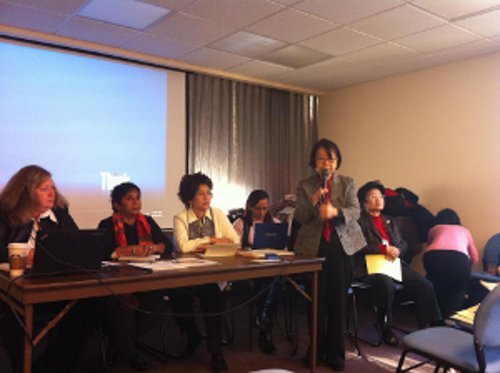 The lives of women and men in the Asia-Pacific region have recently been adversely affected by many types of natural disasters. The workshop comprising panelists from several countries in the region such as Japan, Thailand, Sri Lanka, and Australia discussed a wide range of gender issues that arise during the various stages of the disaster, innovative coping strategies, best practices adopted by governments, NGOs and local communities, as well as lessons learned on how to integrate gender perspectives in the prevention and management of future disasters.
Carole Shaw reports: The first of the APWW side events was held at the early hour of 8.30am. The session Gender and Disaster in Asia and the Pacific, despite the early hour, drew a full room - with some standing at the back. Moderated and introduced by Hiroko Sue Hara of Japan Women's Watch (JAWW) a number of speakers discussed the gendered elements of the disasters in their countries.
Pawadee Tonguthai of Thai Women Watch shared learnings from Thailand, lessons from both the tsunami and asked the question - did we apply the lessons learned to the flooding. The answer appears to be that responses remain gender blind and slow to react to the crisis. During disasters, community based organisations react quickly and effectively to address the specific needs of the community - the government response is slower and there remains a need to recognise that women and men, girls and boys are affected differently by disaster and are entitled to different types of assistance.
Speaking from the Fiji perspective, Shabina Kahn of Fiji Women's Rights Movement (FWRM) outlined the context of Fiji and clearly demonstrated that just because the relative scale of the disaster is small as Fiji is small on the world scale, that still the cumulative effect of the cyclones, rain and flooding severely impacted half of the population of Viti Levu, most of these women in agricultural roles. What was also clear from this discussion was the role of the media and the way in which the media reported on the events. From a number of stories and people interviewed, only one of these stories was from a woman.
Carole Shaw of Justice Equality Rights Access International (JERA) discussed the current research project 'Voices from the Floodplains' a discussion on the 2011 floods in Queensland and Victoria and the impact on the economic security for women in these areas. For many in the audience, this is the first time to hear of the scale and impacts in Australia and the use of images to show the difference between the landscape within one month was a powerful message that climate impacts are truly a global discussion, cross cutting social economic boundaries, culture, and geographical location.
Sepali Kottegoda of the Women and Media Collective (WMC), Sri Lanka, spoke of the South Asian context covering Sri Lanka, Bangladesh and Pakistan. She spoke of the disaster frameworks and ways in which they had applied to various disasters drawing together the picture to some key pointers for action.
Mavic Cabrera-Balleza, wearing her Isis international hat, reminded the audience that different types of disaster provoke a different response. Rapid onset disaster is challenging to prepare for as this comes on quickly and takes everyone by surprise. Slow onset disaster gives more time for mitigation and adaptation strategies and there is time to minimise social-economic impacts. She also discussed the intersection of natural disaster and conflict affected communities. Current responses to disaster in the media portray women as victims - "what we see is the victim not the resilience". Coverage is about the event not the processes for disaster relief. Mavic ended by reminding us all that CSW is the only global forum to discuss women's policy - the event is about bringing these messages to influence the outcomes document and influence governments to the lives of women.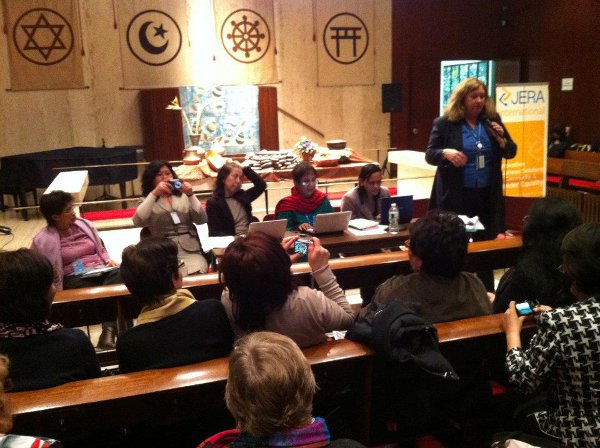 Young Hai Park was given three minutes to discuss some of the responses by BPW - Korea to disaster and reiterated that this is a global issue not a country issue. Beverley Turner (NZ) spoke on the gendered impacts of the earthquake in Wellington and painted a stark picture of families, especially children still living in fear - since the earthquake there have been over 5,000 tremors. Women with small children are especially affected by this and as some schools are still destroyed, examinations and school work still has to continue. To a certain extent the introduction of flexible work place practice has assisted in some companies.
A surprise guest in the audience, Dr Khwar Mumtaz (Pakistan) added a comment to the panel's discussions about the need for engagement of women's organisations in disaster situations. Governments are not quick enough to respond and community based interventions bring immediate assistance to the community.
CSW 56 Side Event: Joining the Dots - Exploring the Economic Empowerment of Women in Conflict Affected Areas by Combining UNSCR 1325, CEDAW, BPFA and MDGs
Joining the Dots explores the critical links between 4 key women's rights frameworks, CEDAW, BPFA, MDGs and SCR 1325 and the economic empowerment of women in conflict situations in 6 countries spanning the Asia Pacific region. The panel of speakers will share their research findings and concerns from Kyrgystan, Pakistan, Nepal, Sri Lanka, Aceh and Fiji.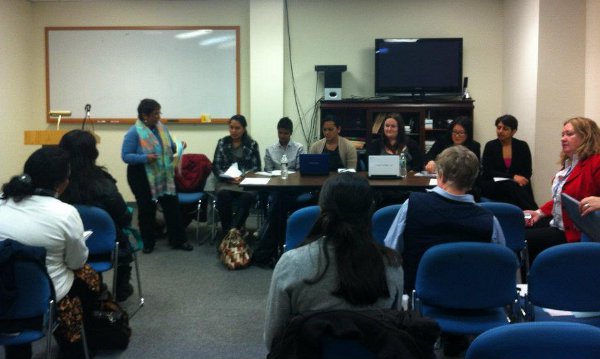 CSW 56 Side Event: Raising a Voice – Young women from the Asia Pacific speak out on sexuality
The purpose of this event is to bring together a group of young feminists below the age of 35, to share their concerns and speak about the challenges they face as young women living and negotiating their own space within the Asia Pacific region. With only two years to go until Cairo +20, when governments will be called upon to review their progress on the implementation of the 1994 ICPD Program of Action, it is crucial that young women come together, share their concerns and strategically identify ways in which governments can be held accountable to their international obligations.
Statement by Asia Pacific Women's Watch on behalf of the Asia Pacific Region to the 56th Session of the United Nations Commission on the status of women.
Madam Chair,
We make this statement on behalf of the Asia Pacific Regional Caucus which is home to 60% of the world's women.
The Asia Pacific Regional Caucus acknowledges the complexity and dynamism of women who live in rural contexts and that strategies to address rural women's issues should be based on women's empirical realities. We also acknowledge the role of Indigenous women as traditional caretakers of the land and resources.
As we head towards the Rio +20 Summit now is the time to review, re-evaluate, re-strategise and strengthen the situation of women from all ages in this region. Women face enormous and complex challenges within the framework of climate change and disasters, including, food insecurity, unemployment, property rights, access to credit and nuclear disaster.
Rural women in the region continue to face gender related inequities which are rooted in structural oppression through class, caste, race, religion, sexual orientation, gender identity, and ethnicity, among other factors. Inequalities and discrimination in women and girls' access to education, nutrition and health services, sexual and reproductive health services, decision making, access to and control over information and communication, land, water, fishing resources and other productive resources, impede women's opportunities for decent work, and full participation in public life.
Discrimination against women with disabilities and the elderly is a great concern in the region. There is great urgency for inclusion of women in political decision making at all levels
Poverty is heavily concentrated in rural areas. Marginal resource allocation for implementing global and national policy commitments on rural development and the long-term neglect of the agricultural sector are also impeding factors for rural women's poverty alleviation. Rural development strategies are negatively affected by neo-liberal globalisation in terms of commercialisation of the agricultural sector, liberalisation of trade and commoditisation of food and other agricultural products. Women are time-burdened doing unpaid work to provide the basic needs for the family. The needs of the elderly rural women go unnoticed and not addressed, yet they are the bulk of the rural poor women in the region.
Violence against women and girls across all geographic and demographic areas continues to be a major concern. There are increasing reports of FGM, sorcery killings, witch hunting, honor killings, acid throwing cases, homophobic attacks, child marriages, trafficking, rape as an instrument of war and militarization in all forms. New and pervasive forms of violence are emerging alongside new media and technology with cyber bullying for those who have access.
We call upon states for specific measures to ensure economic, social and political empowerment of all women, including access to public goods, legal and social protection and public investment in physical and social infrastructure.
We call upon states to recognize women's critical contribution to rural development and, their rights and priorities in legal frameworks, national and local development policies and investment strategies at all levels.
Thank you.
http://www.un.org/womenwatch/daw/csw/csw56/general-discussions/ngos/Asia-Pacific-Women-Watch.pdf