DECLARATION
International Women's Network Against Militarism
8th Gathering: "Forging Nets for Demilitarization and Genuine Security"
February 19-25, 2012 – Puerto Rico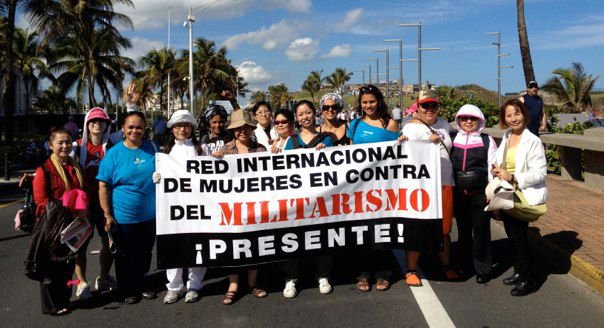 The 8th Gathering of the International Women's Network Against Militarism, that occurred on February 19-25, 2012, reunited 26 women representing 8 countries gathered in Puerto Rico. Delegates from the Philippines, Guahan (Guam), Japan, Okinawa, South Korea, Hawaii, and the United States joined their counterparts in Puerto Rico to evaluate the growing military threat and develop strategies to propeci a sale counter the soft gel viagra impact of militarism, military contamination, imperialism and systems of canadian viagra pharmacy oppression and exploitation based on gender, race, class, nationality and sexual orientation.
First, we express our dissatisfaction and anger at the situation faced by our colleague from the Philippines, Corazón Valdez Fabros, who was denied entry into the U.S. despite the fact that she was issued a valid visa beforehand. No adequate explanation has been given to justify this violation of her freedom of movement.
Ms. Fabros is an internationally known and highly respected advocate, researcher, and expert on conflict resolution, democratization process, human rights and the best place security. She is a regular speaker at international conferences and meetings, particularly in the Asia-Pacific, on peace building, nuclear disarmament, and environmental clean-up of former U.S. bases in the Philippines.
Although Ms. Fabros was issued a multiple entry visa last October, Delta Airlines was instructed by the Immigration and Border Protection to not board the flight leaving Manila en route to Puerto Rico on February 17, 2012. We are grateful that the prescription viagra U.S. representative of Puerto Rican descent, Luis Gutierrez (D-IL), is investigating and requesting an explanation.
As a result of the discussion at our meeting we declare the following: