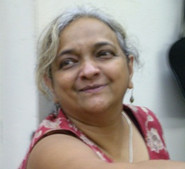 Sunila has been a lifelong feminist and human rights activist in Sri Lanka and South Asia, and a major player in the global women's movement (see bio below). She is currently based at the Institute for Social Studies in The Netherlands as the recipient of a Scholars At Risk fellowship. These fellowships are awarded to individuals who face potential violence in their own country as a result of their human rights work.
Sunila has lived a courageous life on the forefront of many social movements, fighting relentlessly for justice and human rights--for women and on behalf of all those who experience identity-based discrimination, persecution and marginalization. She has nurtured and supported countless women and men of all ages the world over, inspiring many-both directly and by example-to challenge abusive authority at the local, national and international levels.
Sunila was diagnosed with late stage cancer in the Netherlands in November 2012 and has been receiving treatment there. At this point she is weighing options about where to receive treatment--likely in South Asia. She faces the prospect of significant-and possibly protracted-uncovered medical, travel and living costs in this fight for her life. What Sunila is facing now is the lot of many other activists--whose lives fighting for social justice often precludes their ability to focus on their own well-being and financial security.
We are reaching out to Sunila's beloved community of friends and colleagues around the world to ensure that cost is not an obstacle preventing her from getting the best care possible. It is difficult to know exactly how much will be needed, but we are seeking to raise US $25,000 this month to ensure she does not have to worry about the expenses. She has given to the world, now it's time to give to her.
KamlaBhasin, Charlotte Bunch, Roxanna Carrillo, Amrita Chhachhi, Susanna George, Debra Liebowitz, Kumi Samuel, and a number of others who who love Sunila...
Donations made be made at:http://www.youcaring.com/medical-fundraiser/sunila-has-given-to-the-world-now-it-s-time-to-give-to-her-/60250
If questions, email This email address is being protected from spambots. You need JavaScript enabled to view it.
BIOGRAPHY:
SunilaAbeysekera's unique and highly valued work on feminism and human rights is based on her combination of grounded local involvement in Sri Lanka, significant contributions to struggles in the Asia Pacific region, and international advocacy.
Over the past 40 years, Sunila has been deeply committed to seeking justice and redress for human rights abuses in Sri Lanka as well as globally. Her work places a special emphasis on gender and peace building and has included documenting the impact of conflict on civilians, introducing nonviolent strategies of conflict transformation and challenging impunity to hold perpetrators accountable [http://www.opendemocracy.net/5050/sunila-abeysekera/brutal-manifestation-of-patriarchy]. She also addressed a broad range of other issues, ranging from violence against women to sexual and reproductive rights, including the rights of communities such as sex workers, people living with HIV/AIDS, and lesbian, gay, and transgender people.
Sunila began her work as a Human Rights Defender in the mid 1970s as part of Sri Lanka's first autonomous human rights organization