Radio Rights and Recognition – Community Radio for People's Empowerment
AMARC Asia Pacific introduces affirmative action for women
The strong presence of women in the community radio movement in Asia Pacific was felt at the 3rd Regional Conference, from December 2 to 6 in Seoul, South Korea.
Among the close to 170 participants from 23 countries in the Asia Pacific region less than 40% were women. But the women present were very active and saw to it that in almost every panel or workshop the women's perspective was presented.
Women still underrepresented in community radio stations in the Asia Pacific
During a panel on the status of women in community radios in the Asia Pacific, a survey by AMARC1-WIN2 was presented which on one hand showed that many women in community radio are marginalised and often deprived of access to decision making and technical tasks. On the other hand, the percentage of women in leadership positions has increased by 7% from 28% in 2006 to 35% in 2013. The reasons for the inequality between men and women given by majority of the respondents were cultural barriers and threats to the safety of women broadcasters. The most important changes respondents desired are more women's participation in content production and generally more women who work in the community radio as staff and volunteers.
The new President of AMARC Asia Pacific is a woman
AMARC Asia Pacific is only eight years old, it held its first regional conference in 2005 in Indonesia and this general assembly the second president of AMARC Asia Pacific was elected. Maica Lagman, a young activist in her thirties from the Rainbowrights Project in the Philippines was elected into this position with maximum votes. She is an "out" advocate for the rights of people with diverse SOGI3 and participated as one of only two representatives from SOGI radio shows in the conference. The other person came from China. Maica has been deputy president of AMARC Asia Pacific for the last four years. At the end of the conference she happily declared: "This conference has been fantastic. It was one of the best conferences I ever attended. It is so good to speak in one voice for the importance of community radio in this region."
60% women, 40% men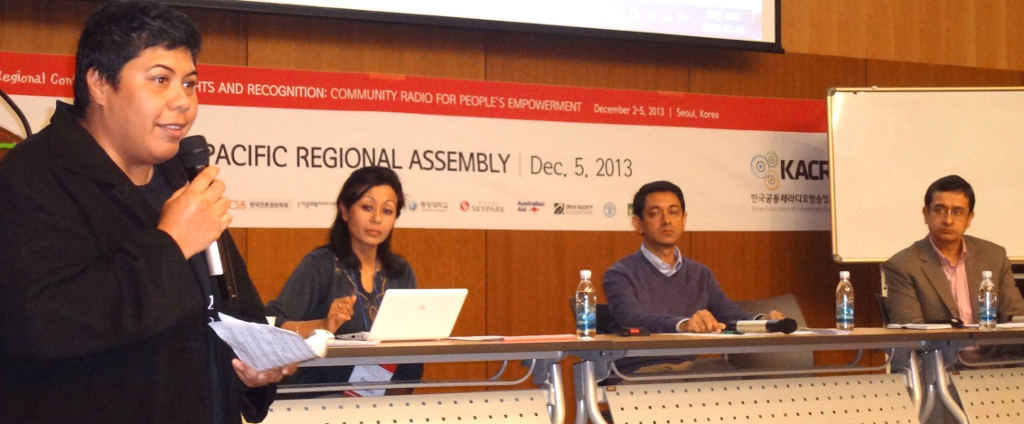 The other success that women achieved during the general assembly was a resolution for affirmative action towards women's equal participation in AMARC activities such as conferences. Although AMARC Asia Pacific always sponsors 50% women and 50% men for any of its activities, in conferences men are always overrepresented. This disparity arises as some participants are self-paying and others are sponsored by other organisations, who predominantly send men. This always results in a majority men. Therefore the women at the meeting of WIN decided to propose a resolution that in future 60% of the AMARC-sponsored places are reserved for women and only 40% for men, until gender equality in AMARC activities is reached. The resolution was passed unanimously.
The newly elected board is composed of three women and five men, while the last board that was composed of four men and four women.

Award for best implementation of the Gender Policy
At the 2010 general assembly of AMARC Asia Pacific in India, the Gender Policy for Community Radio (GP4CR), that was developed by AMARC-WIN Asia Pacific, was approved. Four years later WIN-members realised that the implementation of the policy by the individual radio stations needs strengthening. Therefore, they passed a resolution for the introduction of an award for the radio station that best implements the GP4CR with most impact on women's full and active participation.
Participatory Process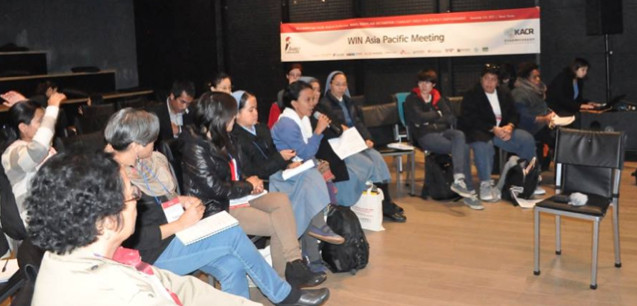 In a very participatory process during the four-days conference the member of WIN Asia Pacific developped the Regional Action Plan 2014 – 2018 and elected Nimmi Chauhan from India as new WIN-Vice-President to the Regional Board of AMARC Asia Pacific. Nimmi Chauhan has been active in WIN since its start in 2006. She supported the establishment of community radio in Gujarat and is an advocate for women's access to communication. About the conference she happily said: "This conference has a lot of meaning to me. The platform that allows for every one to speak, share, that is amazing. People often think, especially when they come from a remote area, what does it matter what they are doing. But when we come together in a place like this we suddenly realize that we can make a huge difference. This gives me the energy, I feel charged, re-energized to work even harder."
Bianca Miglioretto
Isis Associate
outgoing AMARC Asia Pacific WIN-Vice-President
1AMARC – World Association of Community Radio Broadcasters (French Acronym)
2WIN – Women's International Network within AMARC
3SOGI – Sexual Orientation and Gender Identity (UN-definition)