Second Isis International and QAYN Activist School for Young, Queer Francophone Women
Lomé, Togo
February 10-14, 2014
My community self-stigmatizes and discriminates"; "my community is engaged"; "my community is ignorant but in search of its own path; "my community is dispersed"; "my community has trouble communicating"; "my community is unified". These were some of the perspectives that participants shared about their communities at the last Isis International and the Queer African Youth Networking Center (QAYN) activist school in Lomé, Togo.
In early 2014, under the theme "Building Self, Building Community", the second Isis and QAYN activist school brought together 19 Francophone women from Benin, Burkina Faso, Cameroon and Togo to deepen their skills in community organizing, documentation and communications to substantively shape their political agenda in building a queer women's movement in Francophone West Africa and Cameroon. Led by two facilitators from Isis and QAYN, with modules developed by Isis and a consultant from QAYN, the five-day training focused on topics ranging from developing self-awareness as activists, facilitative leadership, media as a tool for community building, consensus building in creating community, and charting a future for a community.
The first day began with participants' presentations of their ongoing work to help contextualize and set the tone for the next five days. The rest of the day was divided between exploring community and the structure of belonging, looking at distinctions between communities of origin and those of choice, our notions of what we mean by community in the first place and what are the elements of a community. The overarching goal of this session was to get the young women to reconnect with their own notion of community and why belonging and building a community is important to them. Asked what makes us a community, opinions varied from "the diversity of talents and convictions" (Joe from Douala), to "a shared vision and understanding of needs" (Credo from Cotonou). We learned how to establish common grounds in community organizing, a key component for building a cohesive community, and what is needed to be a community organizer.
During the last half of the day, we made a transition to exploring the self, as an activist and facilitator of community building. The goal of this session, focused on strengthening self-awareness through the practice of journaling and self-reflection, was to introduce self-care as an act of activism through the use of journaling as an activist tool. A rich discussion ensued with some activists who viewed journaling as a dangerous tool for queer activists in countries that criminalize homosexuality, while others considered it as a safe haven, where they can clear their head. For Pegguy, co-founder of Lesbiennes du Cameroun, with a journal, "one can write and tell the truth about one's work, it is a faithful friend who keeps secrets, and it is a self-taught tool". However, for another participant, "if you get arrested and your journal is discovered, it will exposed the truth about your activities and not only endanger yourself, but your entire community". To close the day, participants were divided into peer groups and were given an individual journal with a few questions to practice their own self-reflection.
The morning of day two, we brought together the same peer groups to share either their individual process of starting a journal or any other reflections. When we came together as one group the discussion about safety and journaling surfaced again, but this time the conversation turned toward identifying ways to protect personal journals, for those who felt safe enough to use one. Several tips and tricks were shared; among them, the use of personal codes to protect the contents of one's journal was widely appreciated.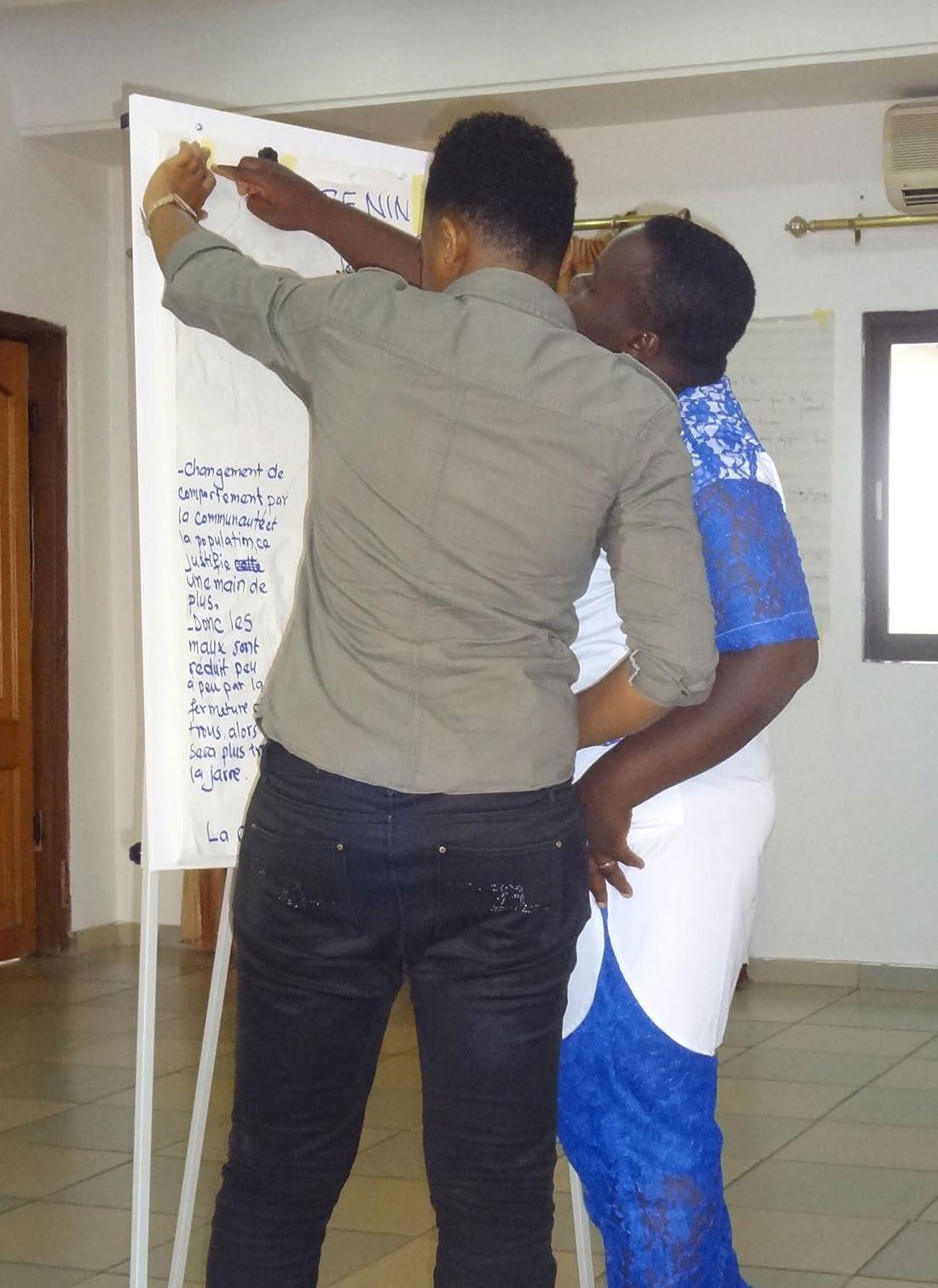 We came back to community building, this time through an exploration of leadership and leadership style. The objective of this session was to introduce a model of alternative leadership focused on facilitative leadership, but first delving into the concept of leadership in general, leadership by women and particularly feminist leadership. The majority of the young women did not identify themselves as leaders, rather, most viewed themselves as facilitators. For Babette from Yaoundé, "I am a facilitator because I do not have the competence of a leader; I will need more training to become a facilitative leader"; Nat from Lomé was hesitant to define herself as leader as well, but she did recognize that she sometimes has traits of a traditional leader because "sometimes, I decide what needs to be done and I do it, I do not consult my peers. Other times, I aspire to learn, so I seek input. I hesitate between identifying myself as a traditional leader and a facilitator". For another participant, Natalie from Yaoundé, "we must evolve and challenge our own notion of leadership the way we challenge patriarchy." This session ignited a rich discussion on traditional versus facilitative leadership and the place of women in African societies and how gender norms impact women's abilities to fulfill and embrace their leadership style.
We started the morning of day three with each group presenting their vision for their emerging communities. The presentations were very creative; each group had an elaborate drawing of a metaphor to describe their vision. For instance, for Credo and Yanique from Cotonou, currently their community is a calabash (African gourd) with multiple holes. The holes present the problems facing the dispersed lesbian and bisexual (LB) communities in Benin. The calabash was held up by two hands, representing the few LB activists who have started to organize their communities because they aspire to a better future. In five years time, there will be fewer holes and only one hand holding the calabash, because by then the community will be one with each member contributing to addressing its problems and making it whole. By the end of the five-year period, there will not be any holes.
The afternoon of day three throug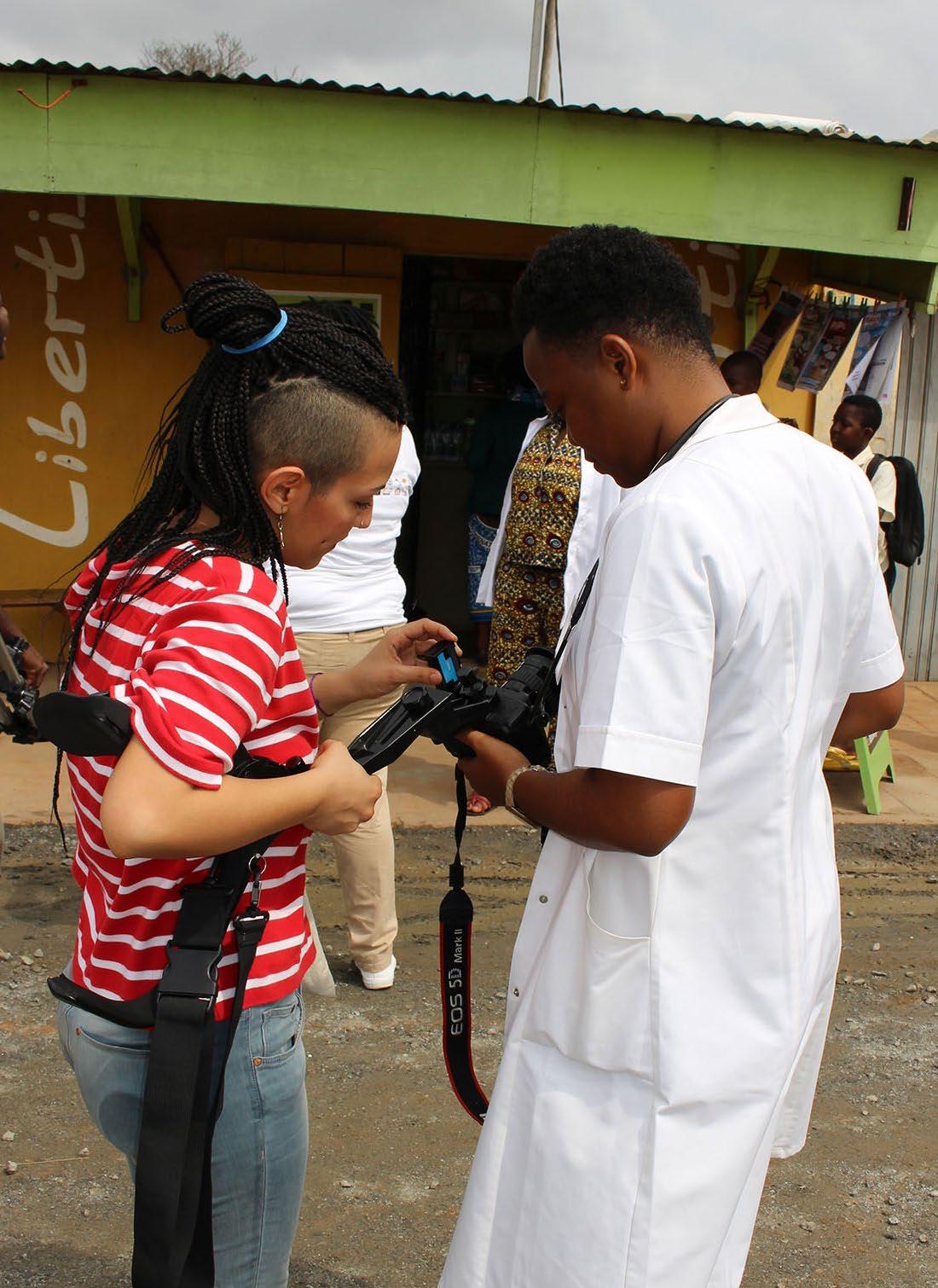 h half of day four the group focused on practical media training. The facilitator started the media training with an exercise on deconstructing visual norms by showing images to the participants, then asking them to guess the sexual orientation and/or gender identity of each person in each image. Then the session moved to challenging the young women to deconstruct their own notion of norms, especially gender norms. We had a lively discussion during which we identified norms that society imposes on us, norms that we impose on ourselves, on our intimate partners and on others in general. Day three ended with participants learning basic methods of script writing for media campaigns put into practice by each writing a short script themselves. One example of script written by the group from Douala was a sensitization campaign against street harassment of lesbian couples. The story line was as follow: A lesbian couple with their child was having a conversation with another lesbian couple in front of their home. A straight couple passes the group and the group verbally harasses them.
The overt message was "heterosexuality, an oppressed minority". The sub-message was to educate heterosexuals to understand what being an oppressed minority is like.
The participants spent the morning of day four filming a video to produce a short advocacy campaign video themed I'm everywhere, you just don't see me. This video was a campaign against invisibility, portraying lesbians and queer women in all walk of life as mothers, best friends, sisters, doctors, teachers, etc. Shooting this video became the highlight of the training, especially the end product the participants delivered. Most importantly, through this activity, the young women were able to overcome their fear of being in front of a camera.
The last session of day four aimed at strengthening participants' skills in developing action plans, and then dividing them into country groups to work on their action plans for implementation back in their respective communities.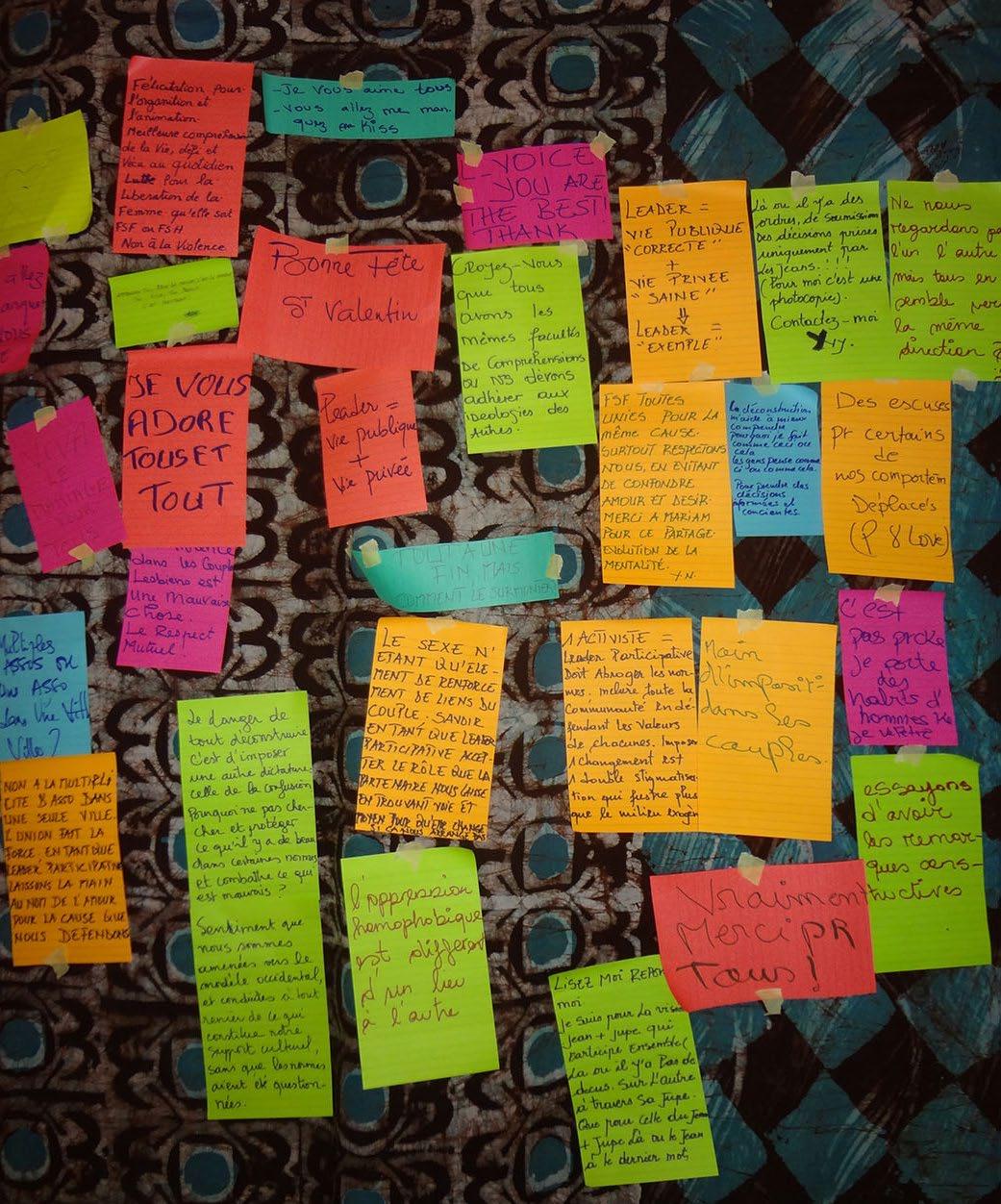 We had a half-day on the fifth day dedicated to the presentation and peer review of these action plans. The training ended with a friendly soccer game at a nearby beach.
The verbal evaluation of the training was overwhelming positive, with the overall message being the undeniable power of convening.
"Thank you, I should to start there. Finally, I feel good. I have participated in several trainings, but had to hold my tongue because usually I was among Anglophone activists, oftentimes the only Francophone participant – I never fully integrated into those groups because I was told that I was not at the same level. But here, I am with people like me, who are beginning their organizing, who speak French. I didn't want to put my experience forward, I wanted to learn, see if the context was different. I really liked the modules, especially the way Bianca, the facilitator, led her sessions. The modules were excellent; they touch right to the heart of the targeted audience. I already said, I will miss you, I get attached easily to people. I got attached to you and really hope we will stay in touch. Thank you." Joe, Alternative Cameroon, Daoula, Cameroon.
"I'm emotional because I have been in paradise since Monday, because it's wonderful to be with you all. You probably saw that I did not talk much since Monday; true I'm shy, but the main reason was that I was touched, touched to be with this group, to know that I am not alone. I really appreciate this training, because we really need this initiative.
I learned a lot, from the facilitators, especially from Bianca. I learned from your facilitation style, which will help me professionally but also personally. I liked the group ambiance, it was cool. I learned from Khouloud because I love film. However, even though we learned a lot on community organizing, I did not feel an emphasis on feminism precisely. I would advocate for a training on feminism, its principles, to help us better understand some concepts. I love you all!" Calypso, L-Voices, Lomé, Togo
"For me it was a great opportunity to meet others from different countries and culture. This training was enriching on several levels. I am very happy with the whole experience, especially all of the things we were able to experience on a personal level, which helped each and every one of us to grow as a person and as an activist. Regarding the training itself, I gained new skills. However, regarding the facilitation, we encountered some glitches. For me it was sometime challenging to grasp what was being taught. Personally, if the methodology isn't clear in my head, I have difficulty following. I hope that this training initiative will become frequent; it allows us to grow at the personal level, butalso gain new skills. I grew as a person. This training was extraordinary." Anne-Marie, Humanity First Cameroon, Yaoundé, Cameroon
By Mariam Armisen