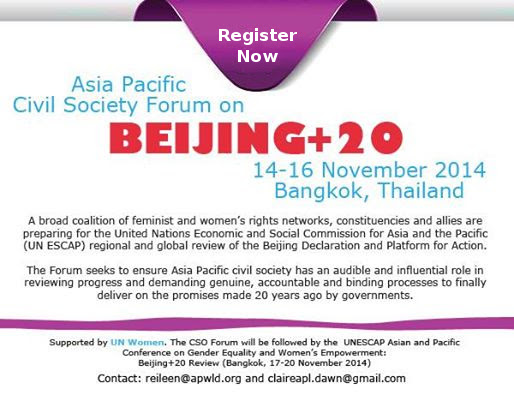 On 14-16 November 2014, Asia Pacific civil society organisations will gather in Bangkok, Thailand to develop a collective strategy on the priority issues for the Asia Pacific region on the Beijing +20 review processes.
You can apply to attend and to have a workshop at the forum via the online application form or download the form and send it to This email address is being protected from spambots. You need JavaScript enabled to view it..
Applicants also applying to organise workshops at the forum will need to submit their workshop application separately.
Please click here to download the application forms.
Click here to fill up the form online
Please take note that the Call for Applications will close on 5 October 2014 at 2400 EST.
Should you have further questions, please feel free to contact the Asia Pacific Beijing+20 CSO Steering Committee through Reileen at This email address is being protected from spambots. You need JavaScript enabled to view it. and Claire at This email address is being protected from spambots. You need JavaScript enabled to view it..