Isis International calls for the release of Activist School alumni Wang Man and the other detained activists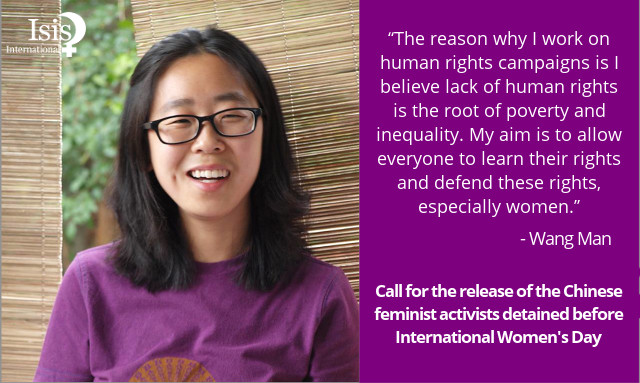 On March 6th, just two days before International Women's Day, at least 10 feminist activists in China were taken into police custody or put on house arrest on the grounds of "creating disturbance". They had been working on a nationwide campaign against sexual harassment on public transportation and had planned to distribute leaflets and post stickers on public transit vehicles.
Wang Man, an alumni of the Isis International Feminist Activist School, is one the five activists known to still be detained along with Li Tingting, Wei Tingting, Zheng Churan, and Wu Rongrong. There are no "formal charges" against the women and their ongoing detention has lead to growing concerns from the feminist community and human rights groups.
Wang Man was concerned with the worsening situation of human rights defenders in China and continued her human rights work though cognisant of the risks. She coordinated human rights related advocacy focusing in particular on poverty and took part in women's rights street campaigns including the "Occupy Men's Toilets" campaign.
She joined the Activist School because she wanted to do what she could to protect herself, as well as her friends, colleagues, and family, and to ensure that there was a gender perspective to her human rights work.
Based on the practice and experience of young feminist activists, she developed a handbook for human rights defenders advocacy training for local non government organisations.
Isis International calls for the release of Wang Mang and the other feminist activists detained before International Women's Day.
What can you do?
Support the Association for the Advancement of Feminism's signature campaign and share the campaigns Facebook page.
Sign the petition "Calling for Beijing Police to Release Chinese Feminist Activists Detained before International Women's Day". Email your signature to This email address is being protected from spambots. You need JavaScript enabled to view it. (Format: Name, Gender, Location, e.g. "Nancy Tang, She, DC")
Forward Frontline Defender's letter to the Chinese authorities. It calls for the authorities to ensure the treatment of the human rights defenders, while in detention, adheres to the conditions set out in the 'Body of Principles for the Protection of All Persons under Any Form of Detention or Imprisonment', adopted by UN General Assembly resolution 43/173 of 9 December 1988.
Write your own appeal to the authorities in China and diplomatic representatives accredited to your country. Join Amnesty International's letter writing campaign and demand that the authorities disclose the whereabouts and legal status of the activists, and ensure that they have regular unrestricted access to their lawyers and family, and are protected from torture and other ill-treatment.